Oaklands Farm has been part of the local community in Nelson since 1844, when original owner John Waring Saxton purchased the "steep, hillish and swampy" land for £150.
Saxton − and the eight generations of farmers who followed him − have worked hard to turn Oaklands into a modern business with a reputation for outstanding milk and a strong connection to the local community. Recently, in consultation with their customers, Oaklands made planet-positive changes to their operations that include bottling their milk in reusable glass bottles, ending their importation of palm kernels (a major cause of deforestation) and installing a substantial solar array.
The solution
The Oaklands Farm solar installation journey took place over two stages.
Stage one took place in 2020 when our Channel Partner Sunergy installed 182 solar panels onto the factory and dairy shed roof. This 50-kilowatt system provided a substantial amount of energy, but not quite enough to cope for the Farm's growing needs.
Stage two, which was completed in mid-2022, added a 220-kilowatt system comprising 504 extra solar panels to the array. These needed to be ground-mounted, so local fencing contractor Higgins built the customised timber frames.
Sunergy Solar again supplied the panels and inverters, and the entire project was funded via a Smart Ease Payment Plan.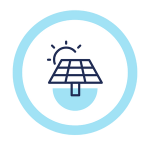 Project snapshot
Equipment (Stage 2)
76kW Solar PV array
Seraphim Solar 440W monocrystalline split cell panels
7 x Fronius inverters (including Fronius Smart Meter)
2 x Mitsubishi Heavy Industries Q-Ton CO2 Hot Water Heat Pumps
2 x stainless steel hot water cylinders (ground-mounted)
Energy supplied
100% of energy required during production hours
One-third of overall requirements
Term
7 years

I think we all have a responsibility in terms of our impact. Whether it's reducing energy use or making sure our streams and rivers are healthy, it's very important for us.
Julian Raine, owner of Oaklands Farm
The win
With a total of 686 panels, the Oaklands Farm solar installation provides one-third of the energy required for the processing, chilling, and bottling of their delicious A2 milk.
The solar power generated replaced £4,000 worth of LPG that Oaklands was burning each month, and means the Farm is now fully self-sufficient during production hours. When not in production, Oaklands Farm can sell power back to the grid.
'We have enjoyed working with Sunergy to meet our decarbonisation goals by replacing all fossil fuels with solar energy,' said Julian, owner of Oakland Farms.
"It certainly helps lower the paid energy bill. We also get carbon credits and offsets, so it's really good."
As the team at Oakland says, "anything good for the planet is a win!"
Find out how our Payment Plans can help your customers meet sustainability goals and save on energy costs