Trofeo Estate is a family-owned boutique winery, cellar door and restaurant overlooking 50 acres of scenic rural vineyard. Originally housing a passionfruit cannery in the 1930s, the main building is elegant and timeless with its rustic exposed red brick, polished concrete flooring and large central bar.
As serene as this idyllic green paradise is, owners Jim and Kathy Manolios experienced a recurring problem each summer during their busiest energy-usage period – brownouts, or voltage slumps.
"Being on the peninsula, every summer everyone comes down from Melbourne and switches on their air conditioning and it's quite common to have brownouts, which are very expensive. That's where solar comes in," said Jim.
The Manolias' realised that taking control of their power and reducing their energy expenses would make a big difference to their business.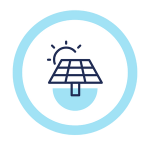 Project snapshot
Equipment
40kW solar system
2 x Fronius Symo 20.0 inverters
103 x Hyundai HiE-S390UF 390 watt panels
Outcomes
Approx. 70% reduction in energy usage during peak operating season (summer)
Protection against energy prices which have risen by 50% since system installation
The solution
They selected award-winning solar company Choice Energy for the project, where Sales Director Lachlan Magee connected them with Assunta Martino from Smart Ease.
"I picked up the phone, introduced myself to Jim told him a little bit about Smart Ease," said Assunta. "He gave me a background on the Estate, and we lodged an application over the phone immediately. It was pre-approved in about five minutes and Jim was able to sign on the spot.  
"It was great to be able to help Trofeo Estate save on their electricity bills and head towards a cleaner, greener environment." 
Channel Partner Choice Energy has worked with Smart Ease on many projects. For their team, the speed, ease and smoothness of the tech-enabled Smart Ease experience is what stands out. 

"What we enjoy about working with Smart Ease is how easy they make the process for our clients. That involvement ensure[s] that the project could be delivered on time, that there were no delays and that us as a provider of the service could be paid within a reasonable timeframe as well."  
Lachlan Magee, Choice Energy, Sales Director 
The win
As a winery, joked Jim, Trofeo Estate has always been in the solar business, as they convert sunshine into wine via their grape harvest. Now, their solar panels are getting in on the act, too, by converting the sun's rays to energy to power their business operations. The winery is no longer held hostage by variable power supply in the warmer months, and their energy expenditure has been dramatically reduced.
The business advantages of funding the project with a Smart Ease Payment Plan were highlighted by Jim.

 "It smoothed out our cash flow. It preserved our capital. The rate that we got was excellent. They liaised with Choice Energy, and everything was coordinated beautifully. And it meant that we were paying off the solar system, but still reducing our energy costs. It was really a no brainer to go with Smart Ease." 
Jim, Trofeo Estate
Start a conversation with Smart Ease and find out how our Payment Plans can help you meet sustainability goals and save on energy costs.